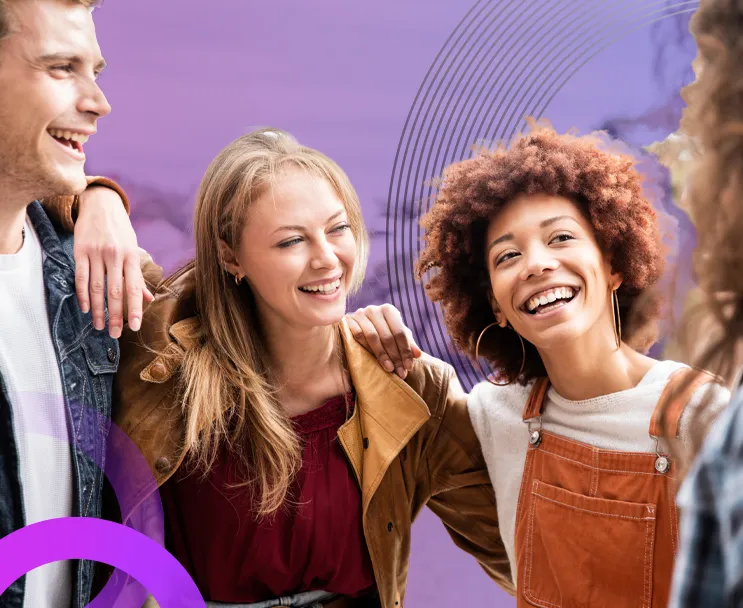 InnoraiseTM: A holistic platform to uplift member experiences and build empowered communities
How is membership crucial for non-profits?
Membership is crucial for non-profit organizations for several reasons:
Financial Support: Non-profit organizations rely heavily on the financial support of their members to fund their operations. Membership fees and donations from members provide a dependable source of funding for the organizations.
Community Support: Passionate members of non-profits play a crucial role in supporting the mission and goals of the organization by raising awareness, attending events, and advocating for the cause.
Volunteerism: Members of a non-profit organization can also be valuable volunteers, donating their time and skills to help the organization actively spread the word and advance their mission forward.
Accountability: Non-profit organization members have a vested interest in the success of the organization and find it gratifying to witness the impact they've made.
Hence, driving membership is critical for non-profits to fuel their passion and purpose, serve their communities, and thrive in the long run.
What members are looking for in non-profit organizations?
Members of non-profit organizations look for different things depending on their personal values and interests. However, there are some common factors that members often consider when choosing to join a non-profit organization. Here are some of them:
Mission: Members are drawn to non-profit organizations whose missions align with their values and beliefs. They want to feel passionate about the organization's cause and believe that their membership will make a meaningful impact.
Impact: Members want to see tangible results from the organization's work. They look for evidence that the organization is making a positive impact in the community and achieving its goals.
Transparency: Members want to feel that the organization is open and transparent about its operations and finances. They want to know how their membership fees and donations are being used and want to see regular updates on the organization's progress.
Community: Members want to feel a sense of community within the organization. They want to connect with other members who are deeply connected to the organization's cause and feel a sense of belonging.
Opportunities for Involvement: Members want to be actively involved in the organization's work. The members' desire is to engage themselves actively in the organization's operations, and they do so by seeking out opportunities to volunteer, attend events, and donate wholeheartedly.
Overall, members want to feel that their membership is making a meaningful impact and that the organization is transparent, accountable, and inclusive.
How Innoraise is helping non-profits build a superior membership journey?
Innoraise brings together the flavor of a comprehensive membership package solution for non-profit organizations and transforms each touchpoint of users' journey into a fulfilling experience.
The non-profit platform is optimized to ensure that users are motivated to become members of the cause. There are different features that ensure that users are able to find a connection with the mission & vision of the non-profit.
Testimonials – existing members & volunteers can share their personal experiences about their engagement with the non-profit.
Success stories – the non-profit can highlight their achievements about how they are contributing to the mission and vision of the cause.
Benefits – users get to learn of the benefits and the deals that they are going to get on availing of the membership.
Steps – users get an overview of the steps involved to become a member so that they get to know beforehand about the ease of the membership application process.
About the non-profit – there is an entire page where details about the non-profit, including its various activities towards the cause and its people are mentioned. Users can find out how their own beliefs are aligned with that of the non-profit.
List of causes – the different causes that the organization is supporting are listed and showcased. This motivates the prospective members/ users to provide their helping hand to the causes and become a part of the community.
How the donations are used – users can get updates on how their donations are creating an impact on the causes they care about, and it boosts the transparency of the organization's activities.
The membership journey is intuitive leading to a smooth onboarding experience.
Users can quickly sign up using basic contact information like an email ID.
Users normally have to go through too many package options leading to confusion during package selection. Innoraise platform allows the user to fill up basic profile details & the packages are auto suggested based on the user profile. This increases the ease of package selection & guides the user toward the most relevant package.
Users get to add packages and additional benefits to the shopping cart which gives them the Amazon experience that they are familiar with. This leads to higher user stickiness & reduces churn.
In line with the e-commerce experience, users can add their favorite products to the wish list and they can visit later to continue their purchase journey.
Once membership has been availed, users get a 360-degree view of their profile from where they can renew their membership, manage subscriptions and contact details, save payments, view and manage recurring orders for donations, and manage wish-listed items.
How Innoraise provides comprehensive membership management for the non-profit?
Innoraise platform has made membership management very modularized, configurable & scalable for the non-profit. Every aspect of membership, beginning from the application, and packages to member management can be configured from the admin console of the platform.
Listed below are a few of the important parameters which can be managed & customized by the non-profit.
User registration – Sign-up parameters like name, email ID and more can be tailored as per the requirement.
Profile management – Different user profiles/personas can be captured. For example, there can diverse sets of profiles such as student, professional, retired, etc.
Packages – Different membership packages can be configured, each with its own set of benefits and prices. Special pricing/discounts can also be applied. Certain packages can also be featured with a tag, for example, 'free trial'.
Benefits – While availing of membership, users can add additional benefits to their cart. These additional benefits can be configured for each of the membership packages.
Review – The non-profit can customize the review order screen where users can get an overview of their profile, selected package & added benefits.
Cart – There is an option to modify the shopping cart journey and the steps involved.
Payment options – Customers can be provided with multiple payment options via online and offline modes such as PayPal, credit cards, cheques, money orders and more.
Renew membership – There is an option for members to renew their membership.
Email templates – Email reminders can be configured from the admin console to remind the users to renew their membership before expiry. Also, the welcome email for members can be templatized.
View & cancel membership from admin – This option enables the non-profit to manage its members and edit the membership based on the request from the members.
For non-profits membership is vital and Innoraise can help these organizations elevate member experiences – be it incentivizing new users to become members, expanding avenues for engagement, or successfully combating attrition rates.